ABOUT ME & MY APPROACH TO THERAPY
MY EDUCATION & BACKGROUND
I have a Ph.D. in Clinical Psychology from the University of Arizona, where I trained extensively in cognitive-behavioral therapy, a set of research-supported methods for helping people with problems like depression and anxiety. Before going into private practice, I worked as a therapist in university counseling centers, helping undergraduate and graduate students with mental health concerns, relationship problems, academics and careers, grief, trauma, and adjustment to the many experiences and transitions that can come up in early adulthood. I also held multiple research positions at the University of Washington, including as a postdoctoral fellow studying young adult women's experiences with sex, alcohol, and mental health, and as a research scientist learning about the lives of LGBTQ+ adults. I have been licensed as a psychologist in Washington State since 2014 (#PY60469467).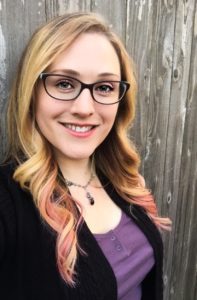 MY APPROACH TO THERAPY
Every one of us experiences loss, anger, sadness, and fear in our lives. How we respond when we're hurting strongly affects our interactions with the world around us and our day-to-day experiences.
Most of us naturally try to avoid uncomfortable feelings — of course we prefer not to feel pain! — and we often return to the strategies that we've used in the past when we were in a painful spot. Sometimes, though, because the situation isn't the same or because of new experiences we've had, those old strategies sneakily stop being helpful and may actually contribute to making things worse. That doesn't mean you're to blame for your problems — in fact, you're probably trying pretty hard to solve them. It does mean that it might be useful to re-examine the thinking patterns and habits that make up your day-to-day life, and maybe even some of the core beliefs you hold about yourself.
On your own, it might be really hard to see how things could possibly get better. In cognitive-behavioral therapy (CBT), you and I will collaboratively, curiously, and nonjudgmentally explore and identify thinking patterns, beliefs, and daily actions that might not be serving you well anymore, and try out some new strategies to bring peace and happiness to your present-day self. Research has shown that CBT is one of the most effective ways of helping people find relief from depression, anxiety, trauma, and related problems. If it feels right to you, we may also work with some mindfulness techniques — different ways you can learn to focus your attention and co-exist with discomfort (rather than avoiding it) so you don't have to suffer so much when life feels really painful and overwhelming. Research has shown that mindfulness techniques can be helpful for a wide range of problems, and along with CBT they can reduce the risk of depression relapse.
MY COMMITMENT TO INCLUSIVE, EVIDENCE-BASED PRACTICE
I welcome clients of all races, colors, ethnicities, national origins, religions, sexes, sexual orientations, genders, and gender expressions. I am LGBTQ+ affirming, sex-positive, and committed to honoring, acknowledging, and advocating for you across all of your intersecting identities. I strive to create a therapy space that is kind, compassionate, and actively focused on supporting you to grow, heal, and build a life you find rewarding and satisfying.
I am also committed to providing evidence-based practices — techniques that scientific research has shown to be helpful for specific symptoms and problems — whenever they are available and a good fit for you. Just like you would want your physician to treat a physical problem using the most effective medical treatment, I believe it's my responsibility to offer the most effective psychotherapy practices available to support your mental health and well-being.